Contact Us
How Are We Doing?
Take a quick survey to share your thoughts about the website. Thank you for your feedback!
How Can We Help You?
Contact us by email, phone, or U.S. postal service for information about any of the following:
How to use The Community Guide
How to interpret CPSTF findings
Ways to share information with others
Questions about methodology
Details about the next CPSTF meeting
Places to find more information
Problems with the website
Anything else related to The Community Guide!
Email: communityguide@cdc.gov
Telephone: (404) 498-1827
Link to Us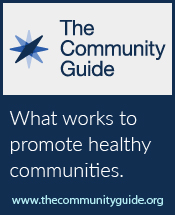 Mailing Address:
The Community Guide
1600 Clifton Rd, NE
MS H21-8
Atlanta, GA 30329
Community Guide Program
Office of Science
Centers for Disease Control and Prevention (CDC)